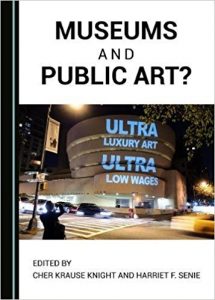 A Museums and Public Art?
Edited by Cher Krause Knight and Harriet F. Senie
While many museums have ignored public art as a distinct arena of art production and display, others have either grudgingly or enthusiastically embraced it. Some institutions have partnered with public art agencies to expand the scope of special exhibitions; other museums have attempted to establish in-house public art programs. This is the first book to contextualize the collaborations between museums and public art through a range of essays marked by their coherence of topical focus, written by leading and emerging scholars and artists. Organized into three sections it represents a major contribution to the field of art history in general, and to those of public art and museum studies in particular. It includes essays by art historians, critics, curators, arts administrators, and artists, all of whom help to finally codify the largely unwritten history of how museums and public art have and continue to intersect. Key questions are both addressed and offered as topics for further discussion: Who originates such public art initiatives, funds them, and most importantly, establishes the philosophy behind them? Is the efficacy of these initiatives evaluated in the same way as other museum exhibitions and programs? Can public art ever be a permanent feature in any museum? And finally, are the museum and public art ultimately at odds, or able to mutually benefit one another?