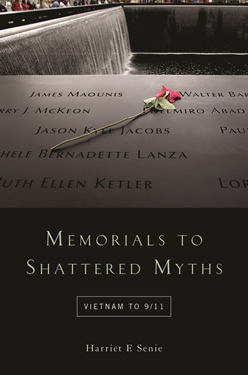 Memorials to Shattered Myths
Vietnam to 9/11
.
By
Harriet F. Senie
The Vietnam War, Oklahoma City bombing, Columbine High School shooting, and attacks of 9/11 all shattered myths of national identity. Vietnam was a war the U.S. didn't win on the ground in Asia or politically at home; Oklahoma City revealed domestic terrorism in the heartland; Columbine debunked legends of high school as an idyllic time; and 9/11 demonstrated U.S. vulnerability to international terrorism. The Vietnam Veterans Memorial was intended to separate the victims from the war that caused their death. This focus on individuals lost (evident in all the memorials and museums discussed here) conflates the function of cemeteries, where deaths are singular and grieving is personal, with that of memorials—to remember and mourn communal losses and reflect on national events seen in a larger context.
Memorials to Shattered Myths: Vietnam to 9/11 traces the evolution and consequences of this new hybrid paradigm, which grants a heroic status to victims and by extension to their families, thereby creating a class of privileged participants in the permanent memorial process. It argues against this practice, suggesting instead that victims' families be charged with determining the nature of an interim memorial, one that addresses their needs in the critical time between the murder of their loved ones and the completion of the permanent memorial. It also charges that the memorials discussed here are variously based on strategies of diversion and denial that direct our attention away from actual events, and reframe tragedy as secular or religious triumph. Thus they basically camouflage history. Seen as an aggregate, they define a nation of victims, exactly the concept they and their accompanying celebratory narratives were apparently created to obscure.
View Harriet discussing memorials and American national identity in the video below, produced by Oxford University Press.